QONTACT
Boring and impersonal shipping notifications? Not with PAQATO.
Automatically provide your customers with relevant information about the shipping of their order, relieve your customer service and identify potential shipping problems early.
QONTAQT – Automated customer communication in your design
Reach out to your customers across all channels
The way you contact your customers significantly contributes to the shopping experience and overall shapes the impression you leave with your customers. With our solution for automated and individualized shipping notifications, you have the opportunity to offer your customers a satisfying experience and remain on positive terms
---
Automated
Automated notifications for order status updates
Proactive
Proactive compensation offers for shipping problems
Appealing
Interesting information and facts on products
Smooth communication during the entire ordering process
Whether ordering, shipping or returns – you decide what the customer learns and when.
You decide what and how to communicate with your customers!
Individual tonality and design for your Customer Journey.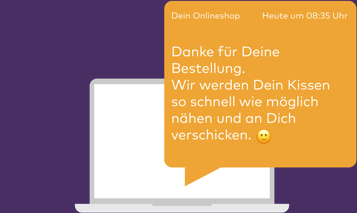 Optimized shopping experience for you and your customers!
Customer benefits
Always up to date
Your customers are informed automatically about the current status of their parcel.
Create a feeling of reliability
Proactively communicating relevant information will leave your customers fully satisfied.
Individual benefits
Inform your customers automatically about individualized offers and novelties in your shop.
---
Your benefits
Optimal customer loyalty
A well-rounded and positive shopping experience strengthens your customers' loyalty.
New customer touchpoints
Gain up to 60% additional customer touchpoints.
Less effort
Relieve your customer service by proactively and automatically informing your customers about the progress of their order.
Combine QONTAQT with our products
Track & Trace
Use our solution and guide your customers back to your own shop for tracking their parcels.
Shipping Analysis
By means of the shipping analysis you constantly keep an overview of your logistics and can thus optimize your shipping process.
Enterprise Data Protection
Extend your existing security mechanisms with enhanced data protection for your customer data.
---
Interested in automating and proactively design your shipping communication in future? We are happy to advise you!