Be the hero for your online shop
With the same number of customers, you'll make up to + 10% more revenue as of today. What do e-commerce growth champions do differently? They let the sweet spot of the package journey work for them.
More sales
Increase your online shop sales by up to + 10% with the same customers, by guiding your customers back to your store during the package journey.
Reduce costs
Avoid costs from unnecessary returns or losing customers due to unsatisfactory communication during the package journey.
Less service requests
Reduce incoming service requests from your customers by up to – 30% through automated post purchase communication.
Strengthen the customer lifetime value
With PAQATO you reliably communicate the status of every package journey in your online shop design and wording.
In this way, you can complete the customer journey without losing contact with your customer at the most important point. If something goes wrong, PAQATO automatically communicates the right message to appease the customer and prevent anger or even a bad shop rating.
With post purchase communication powered by PAQATO, the package journey becomes a conversion firework.
It's never been easier to motivate your customers to buy again.
Use the anticipation on the package journey and inform your customers continuously. Messages about the travel status of the order are read up to + 110%. Include additional info widgets in the messages, such as banners, complementary products or recommendation motivations.
With your track & trace page powered by PAQATO, you encourage your customers to repurchase while waiting for their orders.
Our more than + 1,000 online shops guide customers up to three times to their own track & trace page during the package journey.
This way you can achieve up to + 10% more revenue with the same customers. Use your track & trace page as a source of information about the shipping status and at the same time as an effective advertising space for complementary products, upsell opportunities and news about your online shop. Don't miss this marketing opportunity and create your own track & trace page in your corporate design today.
Bye bye returns
Reduce returns and increase your sales in the process.
Returns are expensive and annoying and can never be completely avoided in online retail. However, you can greatly influence the return rate and even minimize it with the help of reviews. Products without customer reviews have up to + 20% higher return rates than products that have been reviewed. PAQATO automatically collects customer reviews for you to keep your products from being returned.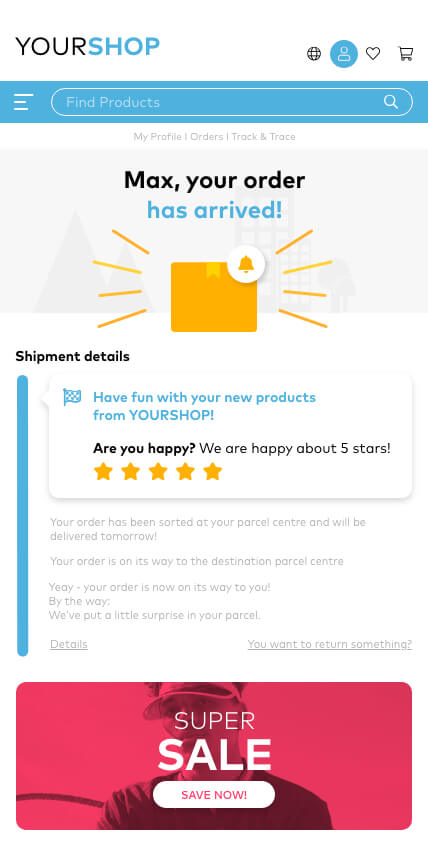 Keep an eye on the performances of your shipping partners
The BI-supported shipment controlling displays the travel performance of your orders in real time.
Once set up, you are at all times aware of the quality of your complete package journey. You can select and filter from a wide range of information. PAQATO also connects seamlessly with your ERP and shop system. This way you get a centralized view of your data and ensure the best possible performance.
Turn marketplace customers into online shop customers
The package journey offers the best possibility to make customers aware of the variety of products in your online shop.
It has never been easier to motivate marketplace customers to buy again by directing them to your store's track & trace page. With PAQATO you no longer just send packages, you guide marketplace customers back to your online store with messages about the status of the package journey and inspire them with new promotions, complementary products and offers to repurchase.
Book your free and personal consultation now